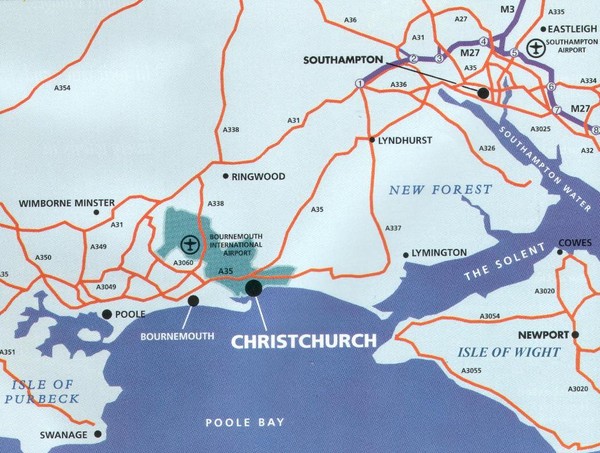 Elder Draney's first area: Christchurch.
Take note of Southampton above to locate him relative to London in the map below.
​Dear Family,
I was actually able to read the emails last week but I had to print them off and read them on the way to the mission home.
The area I was assigned to be trained in is the Christchurch area in the Poole Zone! Right after I got to the mission home I met up with Eric Harris, President Harris's son, also from Twin Falls! I also met the Elder who I was supposed to travel with but who didn't get his visa in time. My trainer is Elder Poulino from Holland! We get along very well and he has been an awesome trainer so far.
Elder Paulino from Holland. Elder Draney's trainer.
(This picture came from Elder Paulino's blog, so we don't actually have a picture of
Elder Draney and Elder Paulino together yet (though the mission office says one is coming)).
Our flat is supposedly one of the biggest in the mission but it is absolutely tiny! The washing machine is so small that it fits under the counter in the kitchen. The kitchen itself is barely big enough for one person to turn around in. The living room is the only sizable room and it is about as big as the living room at home minus the dining room area.
Dad was right about the mission field being different rather than easier. There are definitely parts that are easier about being in the mission field but it has also been the hardest part for me so far. On Saturday I was feeling particularly homesick and even told my trainer that I wanted to go home. We called our Zone Leader and I talked with him for awhile and I felt much better. I think the thing that makes me sad the quickest is thinking about all that is in front of me. Two years seems like an eternity sometimes. But my Zone Leader has given me the advice of focusing on what is happening now and not really thinking that far in the future. It's still really hard to do that. Being right at the begining is hard no matter what way you slice it though.
The Christchurch area is already proving to be a fantastic area for me to start out in. The ward is a big ward by England's standards and has many wonderful people in it. The ward mission leader is a very funny guy and has come up with a lot of ideas to get the members involved in missionary work. Many of the families are eager to feed the missionaries on a regular basis so we will be fed pretty regularly.
All of the people we have met with to teach so far are less active members or investigators that have been taught a lot already. One of the investigators has been taught and has been attending church for more than two years but still hasn't been baptised because he is affraid that if he prays to ask if the church is true he will self-indoctrinate and convince himself that it is true rather than recieve a witness. One of the less active members is a man in his 60's that has been less active for a few years. He talks more than anyone I have ever met before. It's almost impossible to describe but at least 3 times already he has left us a voicemail that lasts over 10 minutes and goes off on all sorts of tangents. The best part is that everytime he leaves a message he starts by saying "Oh hi, it's Peter" in the most unenthusiastic manner. I haven't had the opportunity yet to teach any lessons where the person being taught doesn't talk 90% of the time. Many of the people that live in Christchurch are older or retired and always talk about their lives for a very long time.
Thank you all so much for your prayers and support. I know already that there have been times where I have relied on those blessings because my strength wasn't enough and that there are still more to come. I love you all very much and hope everything is going well.
Love,
Elder Jacob Draney